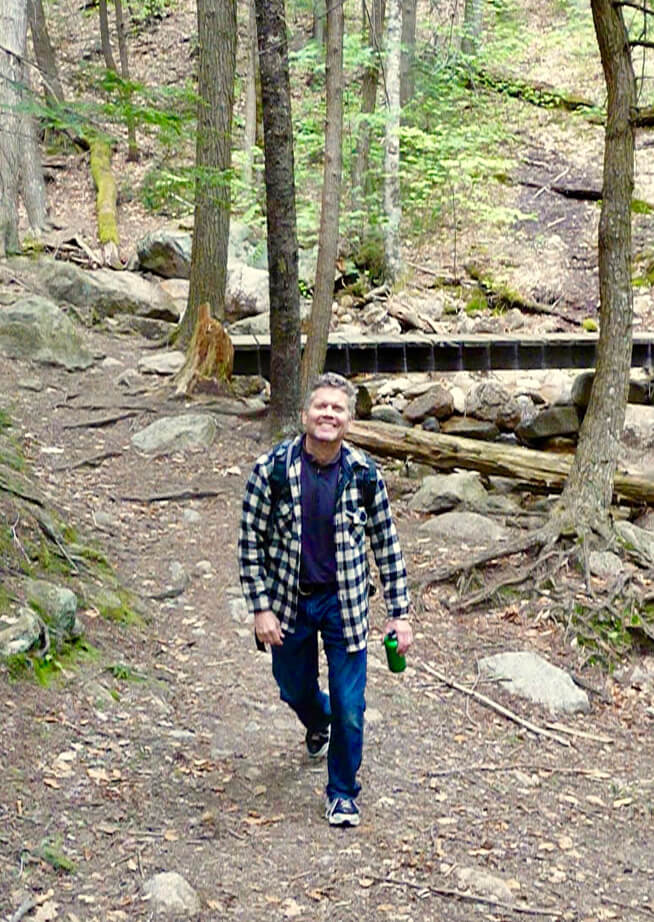 Photography Bio
Work Experience
Education
Exhibitions
Collections
Awards + Recognition
PHOTOGRAPHY BIO
I started making photographs around 1970, first in grade school, then at Andover (Phillips Academy), Boston University, and the Rhode Island School of Design. Some of the teachers I've had include Gordon "Diz" Bensley, David Hanson, Carl Chiarenza, Barry Gerson, Gary Metz, Wendy Snyder MacNeil, and Paul Krot as well as crits with John Baldessari. Since the 1980's I've worked off and on as a commercial and fine art photographer as well as a designer of electronic media.
Early on I experimented with a variety of films, techniques, and processes including B+W and color negatives and transparencies, color infrared, alternative processes, 4 color separations and offset printing, photo-silkscreen, multiple exposures, and audio-visual installations as well as cameras such as a Diana camera, Nikon 35mm, Canon super 8mm, Bolex 16mm, Marron Carrel 35 & 70mm animation cameras, Hasselblad 120mm, 4×5 & 8×10 view cameras, and a Sony RX100.
Presently I use an iPhone 8, sometimes re-working the images with Photoshop. I'm glad to have had the opportunity to experiment with the slower, more rigorous optical/chemical techniques before using the easier digital processes.
The work on this site includes experimental imagery to straight photographs of what I hope speaks most clearly. Sometimes simple representations to more emblematic collages – looking to spark a communal feeling and signify a deeper understanding of the world we live in.
WORK EXPERIENCE
Bartlett Interactive: West Concord, Massachusetts 2002 – present; Principal. Services include Internet strategy, branding, UX/UI design, and development, digital marketing, and web application development.
ConcordConserves.org: West Concord, Massachusetts 2007 – 2017: founder. An online environmental community including a carbon calculator and extensive content.
Satoria Interactive: Watertown, Massachusetts 1998 – 2002; Co-founder and Creative Director. Services include digital strategy, branding, web design, multimedia, animation, and account/project management.
Bartlett Photographic: Watertown, Massachusetts 1994 – 1998; Photographer/Designer. Responsibilities: photography, illustration, and multimedia. Clients: IBM, Hill Holliday, Standard & Poor's, Boston University, Fleet Bank, and Reebok.
C2 Communications: Watertown, Massachusetts 1989 – 1994; Designer. Responsibilities: multimedia design, animation, programming, audio production, and photography. Clients: Digital, Lotus, IBM, ITT Sheraton, Hayworth, and Polaroid.
Business Graphics: Cambridge, Massachusetts 1984 – 1989; Designer. Responsibilities: multimedia design, animation, programming, audio production, and photography. Clients: Merrill Lynch, Putnam Investments, Biogen, Repligen, and IBM.
 See more and extended work experience details.
EDUCATION
Rhode Island School of Design; Providence, Rhode Island, BFA Photography & Multimedia 1984
Phillips Academy; Andover, Massachusetts 1980
EXHIBITIONS
Three Stones Gallery, Concord MA 2018
Islesboro Historical Society, Islesboro ME 2013
Big Picture Show, American Society of Media Photographers, Boston MA 1997
Heaven + Hell, Real Art Ways Gallery, Hartford CT 1997
Definition Expanded, FPG International, New York NY 1997
Holyland USA, Bridges + Bodell Gallery, New York NY 1996
APNY Awards and Exhibition, Advertising Photographers of New York 1995
The Arthur Griffin Center for Photographic Art, Winchester MA 1995
Woods Gerry Gallery, Providence, RI 1994
Next Generation, Addison Gallery of American Art, Andover MA 1993
New England Photographers, Danforth Museum of Art, Framingham MA 1992
Appearance/Disappearance, Outerspace Gallery, New York NY 1990
Cleveland Photography Workshop, Cleveland Heights OH 1990
Cummings Art Center, Connecticut College, New London CT 1990
The White Fat Man, Sacramento Street Gallery, Cambridge MA 1986
COLLECTIONS
Rose Art Museum, Brandeis University, Waltham MA
Tulane University, New Orleans LA
The Phoenix Corporation, Enfield CT
Harvard Vanguard Medical Associates, Boston MA
Private collections
AWARDS + RECOGNITION
Forbes Magazine and Gomez.com: top ten recognition for MuseumShop.com – 1999
American Society of Media Photographers, Big Picture Show – 1998
Print Magazine, Design Annual (photo credit), Nickelodeon Style Guide – 1998
Hatch Awards, NE Annual Advertising Award Show – Maccabi Games (photo credit) – 1997
American Society of Media Photographers, Big Picture Show – 1997
Advertising Photographers of New York, Annual Awards Show – 1997
MIT's Technology Review, Annual National Photography Contest – 1993
American Society of Media Photographers, Big Picture Show – 1993
Colorado Video Festival Annual Awards Show – 1992
Mystic Art Association, Annual Awards Show, Mystic CT – 1990
South Shore Arts Center, Annual Awards Show, Boston MA – 1986
Association for Multi Image, Annual Awards Show, Boston, MA 1984 – 1989
152 Commonwealth Ave, West Concord, MA 01742
(978) 369-2472
© Harry Bartlett All Rights Reserved